The Caracara is a member of the Falcon Family. It has a black-brown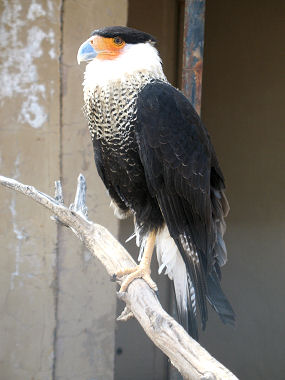 body, white neck and throat, red-orange face, black head and long yellow legs. It has broad, round wings and is not as fast a flyer as other Falcons. It inhabits arid, open country at low elevations such as desert brushlands, plains and grasslands.


The Caracara at right was photographed at the Arizona Sonoran Desert Museum.

Southern Arizona is the extreme northern limit of the range of these strange hawks which become increasingly common south of the border. They are often seen feeding on carrion, their main food, but also catch some lizards and snakes. Rapid beats of white-patched wings are good identification characteristics.