Common Mullein is a member of the Snapdragon Family.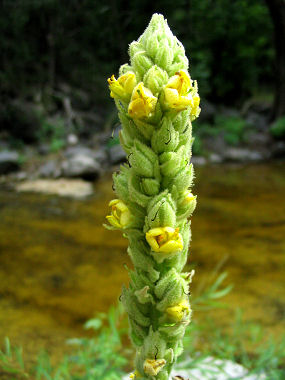 The plant grows to 6 feet in height and has grayish-green hairy leaves to 16 inches in length (though they are typically shorter on the stem). It typically grows in disturbed areas, such as along roads or in fields at elevations between 5000 and 7000 feet.


Leaves of the Common Mullein were used by Native Americans as a lining for footwear to keep their feet warm.

Common Mullein blooms between June and September and produces a tall flower stalk to 20 inches in length with yellow, 5-petaled flowers to 1 inch in width.