Catclaw Acacia is a member of the Pea Family. It appears as a shrub or small tree and grows to 20 feet in height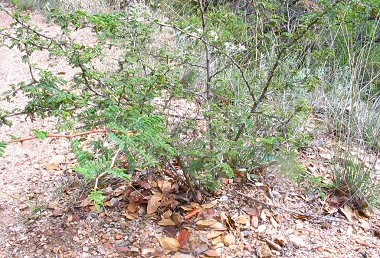 with a bark up to 8 inches in diameter. Bark is gray to brown with scales. Leaves are grayish green and grow in pairs to 1/2 inch in length. The distinguishing feature of the Catclaw Acacia are the short, sharp 1/4 inch spines that grow all along the branches of the plant. It typically grows in desert grasslands and along washes and streams at elevations below 5000 feet.


Catsclaw is appropriately named. Other names for the plant include: tearblanket and devil's claw.

Catclaw Acacia blooms between April and October and produces pale yellow flowers to 2.5 inches in length, followed by a twisted seed pod to 6 inches in length and 0.5 inches in width. These seed pods were ground into a meal by Native Americans.