Updates to Grand Canyoneering will be posted on this page.
Please e-mail updates and current canyon conditions to:

[email protected]

Page 81: Backcountry Rules
Item #14 in the list of Park rules states that "All weapons, traps, and nets are prohibited." Well, that is not true any more, if you don't mind the weight you can carry a gun. Details are available here.

Page 131: Water Holes Canyon Required Gear
For the loop hike only a single 150 foot rope is needed (not two). You could also carry two shorter ropes of 70 feet or so.

Page 131: Water Holes Canyon Trip Description
I received a report that the canyon has changed and there is a new rappel just after rappel #4 and the awkward downclimb, and just above the climb out exit. The rappel is 65 feet in length and the anchor is a rock wedged under a shelf on canyon left. Pinch points on the sides of the chokestones represent a rope-snag hazard.

Page 149: Badger Canyon Trip Description Exit Option 1 (last sentence)
Continue along the drainage until it becomes shallow, and then head cross-country in a more easterly westerly direction back to Highway 89A and your vehicle.

Page 150: Badger Canyon Trip Description Exit Option 2 (last sentence)
Head cross-country to the east west back to Highway 89A and then north along the road to your vehicle.

Page 187: Bedrock Canyon Driving Directions
Continue driving (ignoring any minor branching roads) to a point 10 miles 8.6 miles from House Rock Buffalo Ranch Road to a right branching fork.

Page 236: Salt Trail Canyon Map
The entry route to Salt Trail is incorrectly drawn on the map as coming straight down the drainage. This is not the case (see corrected map below). The entry is described correctly in the book's text.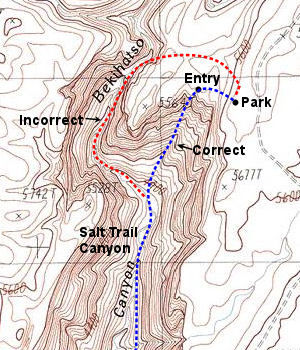 Page 271: Grapevine Creek Trip Description (last complete paragraph describing the route to the spring in Cottonwood Canyon)
The trail descends next to the wash at a more moderate grade to soon pass a wash that enters from the left (east west) and that has flowing water during the cooler months.
Page 224 Hermit Creek Canyon Map
The entry route to to the canyon is slightly off on the map. You contour to the head of the drainage to drop in.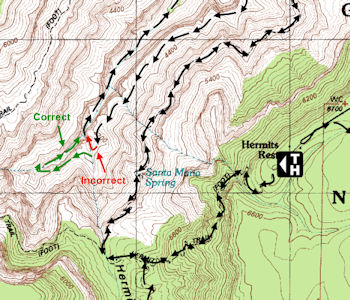 Page 325: Big Spring Canyon Trip Description (first sentence)
From the car park, walk east west across the aspen and fir dotted meadow following the minor Big Spring drainage as it travels between low hills.
Page 336: Point Huitzil Route Trip Description (last sentence on the page)
Once past the towers work your way down and to the right, towards the cliff, then down a series of Toroweap ledges.
Page 375: Deer Creek Canyon
NOTICE: Lower Deer Creek Canyon is closed to canyoneering until further notice. http://www.nps.gov/grca/parkmgmt/upload/2012_grca_compendium.pdf
Page 394: Flipoff Trailhead Driving Directions
Flipoff Trailhead: Stay straight on the main road to mile point 41.3, where you'll turn right to pass through a fence line. At mile 42.0, the road forks; turn right, then stay straight to pass through another fence line 0.1 miles later, beyond which the road becomes considerably rougher. The road forks again at mile 43.5, stay to the left and drive another 0.9 miles (52.4 should be 44.4) to park at a non-descript spot among the junipers.
Page 401: Kanab Creek - Eastern Tributaries (last sentence)
Prior to, or just after entering the Supai, climb out of the canyon to the left (south) near UTM: 12S 360414 mE, 4036827 mN, WGS84 Datum and begin contouring to the east west somewhere between the 4,400 and 4,600 foot elevation marks.
Page 402: Kanab Creek - Eastern Tributaries (first sentence, second paragraph)
At first, you'll want to hike in an easterly westerly direction using the visual milestone of Racetrack Knoll as a guide.
Page 413: Scottys Hollow - the ACA ratings are reversed on the page:
South Fork of Scotty's Hollow (Rating: 3 2A VI):
North Fork of Scotty's Hollow (RATING: 2 3B VI):
Page 441: Cork Spring Canyon - Required Gear:
2x250' ropes, 60' webbing, 6 7 rap rings, harness, descender, helmet, carabiners, drybag, shoes with good traction, packraft, paddle and personal floatation device. A wetsuit is strongly recommended for the river trip.
Page 442: Cork Spring Canyon - Trip Description (next to last sentence in the first paragraph):
Hike down through stunning narrows to rappel #3 #4, which is 125 feet in length from a bolt and hanger at the top of the drop.
Page 444: GPS Point for the Rim Above Hades Knoll Canyon
The third sentence from the bottom of the page should read: A short climb from behind the fin will bring you to the canyon rim at: UTM 12S 337124 mE, 4023167 mN, WGS84 Datum UTM 12S 335426 mE, 4023184 mN, WGS84 Datum.
Page 445: Cork Spring Canyon Map
The map is correct, unfortunately, the canyon is incorrectly labeled "Pocket Point Canyon". It should be labeled "Cork Spring Canyon".
Page 453: Tuckup Canyon and Tributaries
The use area is incorrectly listed as LCB, it should be LB9.
Page 469: Cove Canyon - USGS Topo Maps
USGS Gateway Rapids, Vulcans Throne
This should read: USGS VulcansThrone, Throne Mount Trumbull SE
Page 477: Surprise Canyon Tributaries Driving Directions
The first sentence reads: From Cedar City, Utah drive west on Interstate 15 to Exit 4 for Brigham Road.
This should read: From St. George, Utah drive south on Interstate 15 to Exit 4 for Brigham Road.
Page 480: Surprise Canyon GPS Points
The two GPS points on this page do not correspond to the route shown on the map on Page 481. The map is correct (the GPS points are not).
Correction #1 (second paragraph, second sentence): I was able to climb out at UTM: 12S 268992 mE, 3987694 mN, WGS84 Datum UTM: 12S 269075 mE, 3989005 mN, WGS84 Datum where the Supai has broken down into a series of ledges and slopes.
Correction #2 (last paragraph, second sentence): Exiting Twin Spring Canyon, we got the none-too-brilliant idea to blaze a shortcut to the rim via a steep ravine located at UTM: 12S 263787 mE, 3991864 mN, WGS84 Datum UTM: 12S 264211 mE, 3991060 mN, WGS84 Datum.
Page 483: Burnt and Tincanebitts Canyons Driving Directions
Same as above. The first sentence should read: From St. George, Utah drive south on Interstate 15 to Exit 4 for Brigham Road.