Page 1 Page 2 Page 3 Home Trip Reports
If you pay the entry fee, you can enter La Sagrada Familia and walk the winding stairways which lead up into the building's towers. Despite the busloads of touristas in the main entrance of the church, very few appear to take advantage of the views from the towers (which I thought was the best part).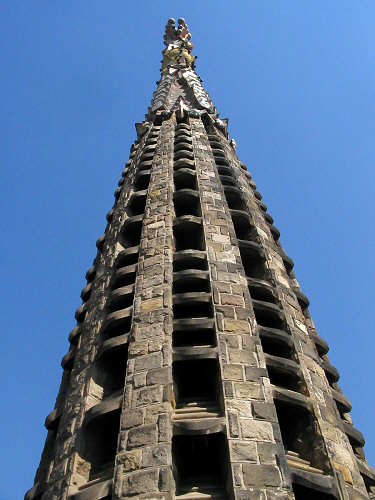 Since indoor photography is a bit of a novelty for me, I began to amuse myself by taking pictures at odd angles. Here's a view from inside the base of one of the towers.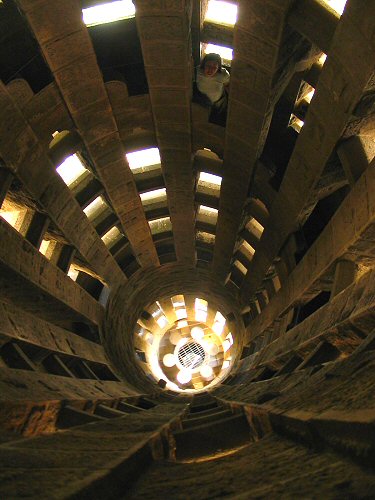 The stairway becomes a tight spiral as you continue up to the top of the spire. Here's an artsy shot looking straight up the stairwell. That's my wife peering down from above, trying to determine what I'm up to.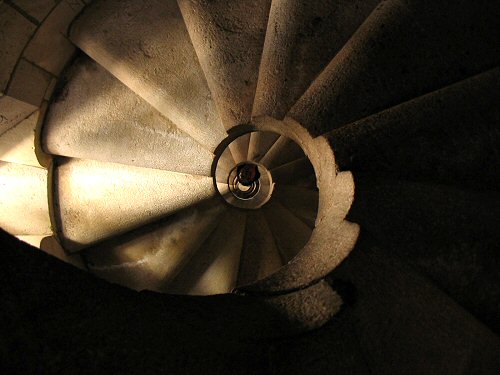 The structures in the Park Guell, were also designed by Gaudi and were completed in 1914. They features typical Gaudi-isms such as leaning columns, cantilevered arches and the use of natural materials and ceramics.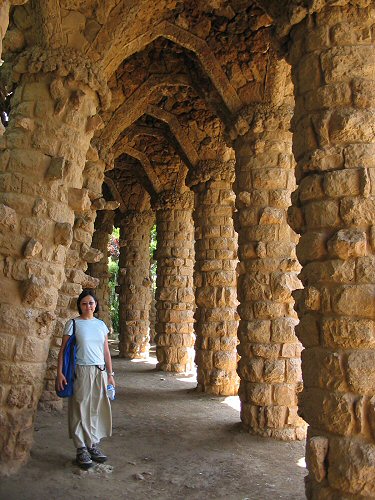 Another photo in the park.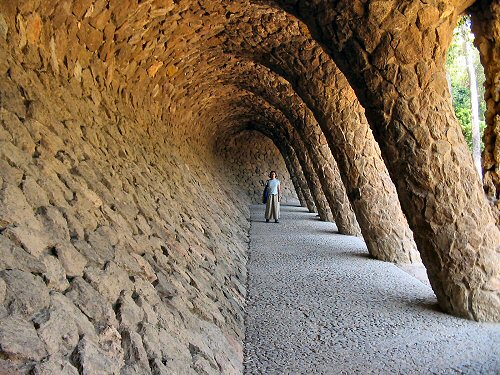 If you guessed that this gate was also a Gaudi design you wouldn't be wrong. I just thought it was sort of cool looking in an 'Alien' kind of way.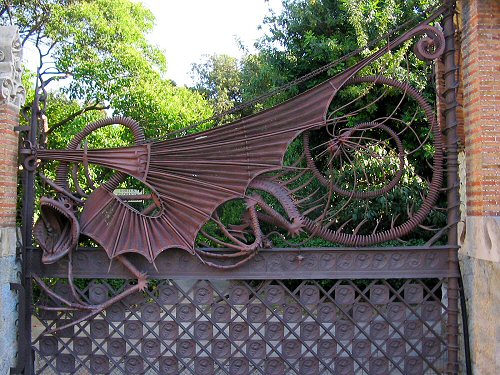 Just some random thoughts about Spanish food in case you ever think of traveling there.
Breakfast is typically crunchy toast with butter or jelly, lunch occurs between 1 - 3pm and appears to consist mainly of beer, dinner is served very late, between 9pm - midnight.
If you order coffee, you don't get free refills.
Peanut butter is a foreign concept. You can't buy it anywhere.
Paella (a rice dish, typically served with mussels and shrimp) is pretty good, but contains shells which pose a hazard to your teeth if you're not careful.
Tapas bars serve a wide variety of little snacks. Some of which are very yummy.
Nestle has dominated the ice cream market throughout Europe and is variously known as: Good Humor, Frigo, Esso, and Ola. They have a variety of sexy ice cream print ads that they'd never get away with using in the puritanical US - think of the children!
There are many shops in Barcelona (even at the airport) dedicated to selling whole cured pig's legs, but they aren't cheap.
Page 1 Page 2 Page 3 Home Trip Reports