Page 1 Page 2 Page 3 Home Trip Reports
We simul-wrap, this short drop, simul-swim under the choke stone & simul-complain about how cold the water is.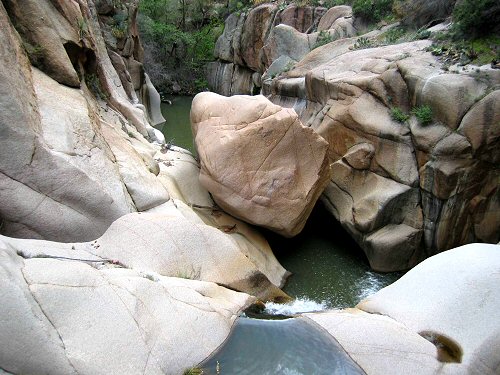 (Photo: Tom Wetherell)
The water bug approach to swimming works well for us.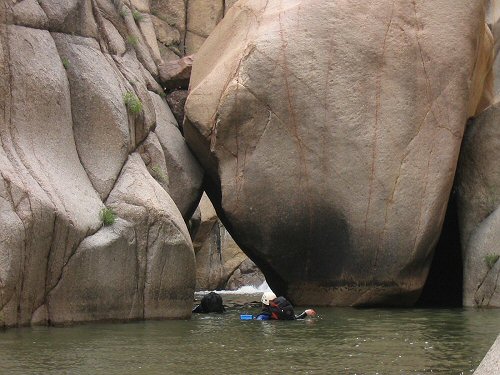 (Photo: Todd)
The final rap is a real delight, with dual falls that split around a big rock & join again at the bottom. Not too shabby.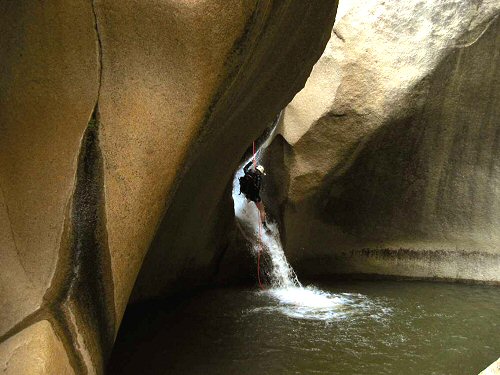 (Photo: Tom Wetherell)
Here's a clip at the same rappel. Aaron has mastered the art of the human bobbing camera platform.
Video 4 - Aaron Locander
It starts to rain a little as we begin our hike out. We stumble across yet another falls, doesn't it know we're supposed to be in a drought?
(Photo: Aaron Locander)
You can't have too many waterfall vids.
Video 5 - Aaron Locander
We thrash our way out and make camp. It's been an 11.5 hour day and everyone is hungry, wet and tired. Dry clothes, a bit of food and energy levels are back to 100% with enthusiasm to spare ........ we all go to bed at 7:30pm. We hike out the next day under cool, bright and sunny skies.
Page 1 Page 2 Page 3 Home Trip Reports