Page 1 Page 2 Page 3 Page 4 Home Trip Reports
Day 3 finds us a bit more awake as we slowly adjust to the 9 hour time difference. The situation is helped by the fact that we discover we can order coffee with milk with the phrase 'cafe con leche', which coincidentally is exactly what they call it at Starbucks!* The plan for the day is a service trip through the classic drainage of the Rio Vero (which is sort of the equivalent of the Zion Narrows in the US - as both are popular, non-technical and very pretty). The goal of the trip is trash removal, but no-one says we can't also have fun (unless they're saying it in Spanish, in which case 'No hablo Espanol').
Like most canyons in Spain, the rock found in the Rio Vero is mainly limestone. Dissolved lime in the water is what gives it a distinctive blue-green color. The canyon itself is mostly quite wide, the interesting sections are actually formed by large limestone blocks that have fallen into the river from above, through which water has worn many passages, waterfalls and tunnels. Here the author and his wife begin the hike downstream.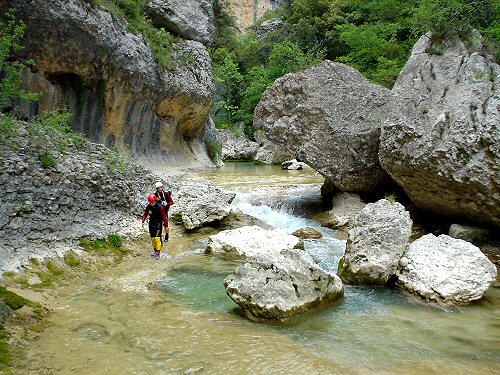 (Photo by John Hart)
Koen is the guide for the trip, and he knows all the hidden tricks along the route. I also get the impression he knows a thing or two about canyoneering in general, which makes up for his lack of fashion sense. I mean, lime green, red and yellow?!? That's so 2003 International Canyoning Rendezvous.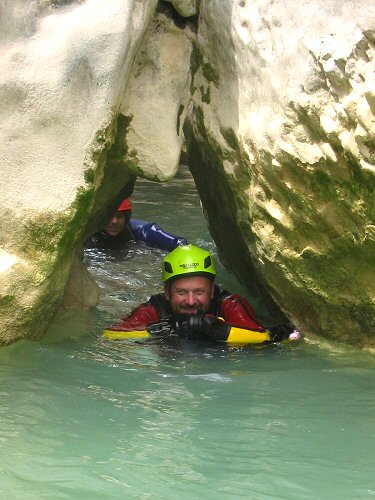 Here are some foamy, frothy falls formed within one of the boulder fields.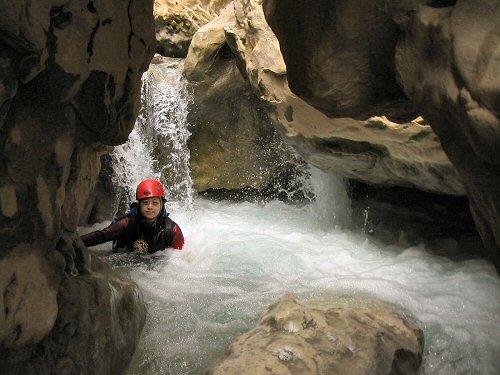 And here's an interesting tunnel.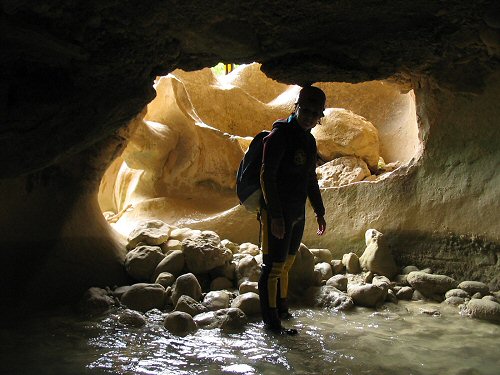 This photo below almost looks like narrows, but again this is a passage between a boulder and a rock wall. Getting this photo was a bit of a challenge given the low light conditions, the fact that I was treading water, and the onset of an unfortunate adverse reaction to a prescription drug which resulted in certain sexual side effects.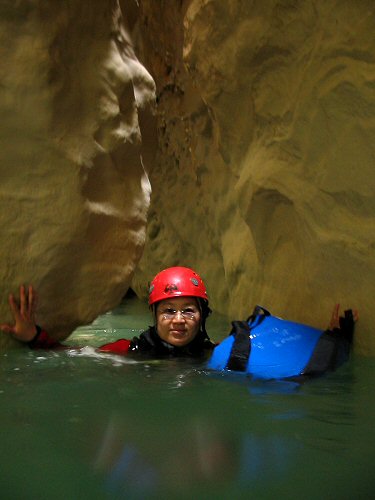 The trip ends at the restored, historic town of Alquezar. We walk up through the narrow streets in our wet suits, attracting more than a few curious and bewildered stares from the tourists (you can see them, there on the right side of the photo - from their expressions I'm guessing the person on the right is bewildered, while the one on the left is merely curious).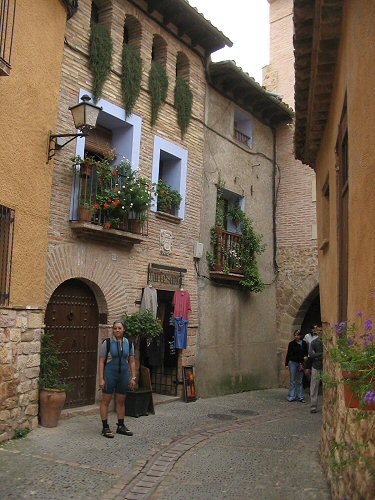 * Once again I kid. My wife actually speaks excellent Spanish and I am very good at pointing at things I want. Both these skills proved invaluable in navigating the unfamiliar terrain of a new culture.
Page 1 Page 2 Page 3 Page 4 Home Trip Reports