Page 1 Page 2 Page 3 Page 4 Home Trip Reports
The last day of the rendezvous finds us in the excellent company of a group of Spaniards heading towards the drainage of Barranco Arpio (a side canyon of Anisclo Gorge in case you're interested, but I'm not drawing you a map). Here we are at the scenic trailhead.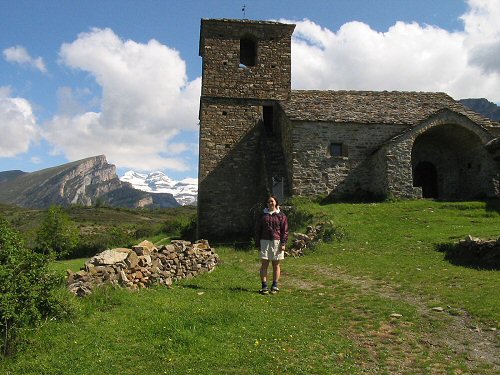 After a bit of route finding we make our way into the canyon. Jumping is the preferred technique at many drops and is the ultimate zero impact technique for those who don't like to leave anything behind in the canyon. Not sure how successful this would be on...say, the last rap in Heaps.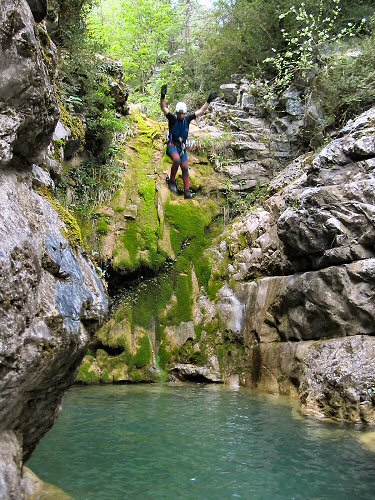 The canyon is a bit dry compared with those of the last few days, but is very nice (almost tropical), with a few short raps. Footing is complicated by the fact that the rock, when wet, was extremely slippery. The neoprene wet suits provided us with both warmth from the water and padding when we fell.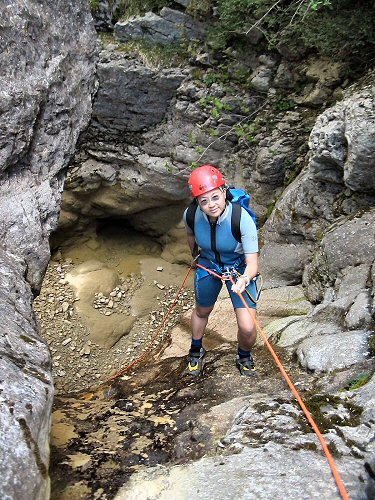 Arpio is not traveled as frequently as other canyons in the area, resulting in clear, clean water which supports a variety of aquatic life. The photos below were taken underwater using a waterproof camera housing. Here is a rather angry looking frog (I'm sure I'm anthropomorphizing here, it would be tough to stay mad in such a pleasant setting).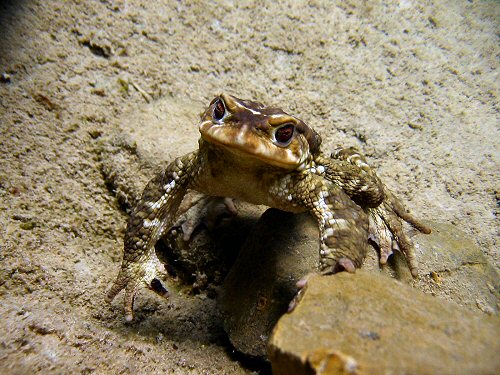 This is a Pyrenean brook salamander. These animals are protected throughout their range in the Pyrenees.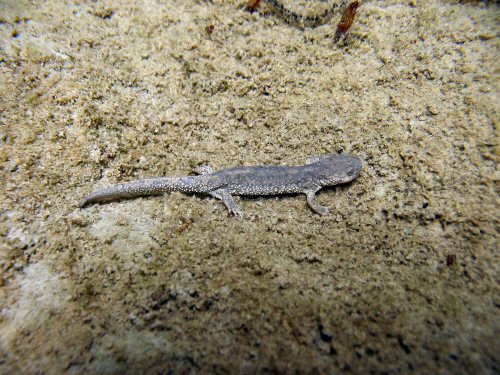 We complete the canyon with several of us sporting a few new bruises, concluding the International Canyoning Rendezvous. Many thanks to Koen for the hospitality, use of equipment, and many suggestions which greatly helped reduce the complicated logistics to a minimum, not to mention organizing the entire event. Also thanks to all those who let us tag along on the trips. We had an outstanding time, to the point that we were not willing to give up canyoning so quickly. Instead we moved on to the Sierra de Guara mountains for more fun.
Page 1 Page 2 Page 3 Page 4 Home Trip Reports