Page 1 Page 2 Page 3 Page 4 Home Trip Reports
A bit tired of carrying our full backpacks, we opt for a day hike up to see what other sites Ordesa Canyon has to offer. With the snow pack still melting at the higher elevations, water is in no short supply.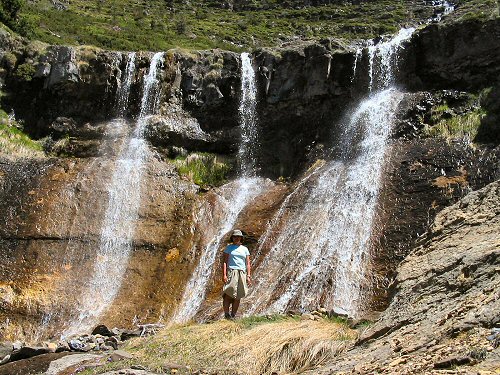 We amble across a hike that leads up to the top of the rock prow on the left of the photo below (called Tozal del Mallo) and decide to give it a shot.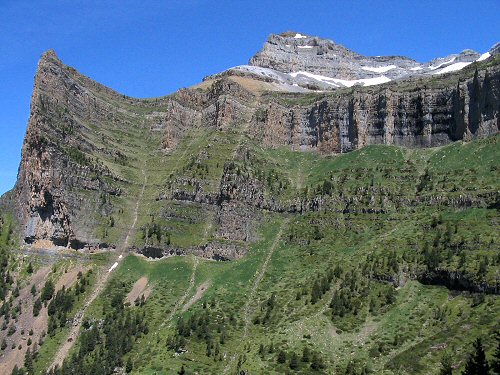 Once again, the scenery along the way is outstanding. Here's how the Ordesa Y Monte Perdido Parque Nacional is described in the visitor map.
"The national Park is a zone of outstanding geographical interest, dominated by the 3,555 meters of the Monte Perdido massif; the largest limestone massif in western Europe. The Park's high altitude and steep slopes are the result of its complex geological and morphological history and harsh climate. The scenery is one of stark contrasts. The high zones are home to an arid karstic terrain, from which rain and meltwater filter underground through fissures and swallow-holes. In the valleys, meanwhile, water is ever present in the form of cascades and springs enfolded by lush vegetation."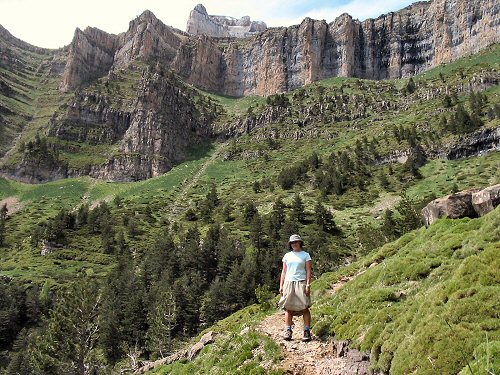 Usually hiking, while strenuous, is more of a relaxing, contemplative activity. The path we followed decided to demonstrate that a bit of excitement was not out of the question.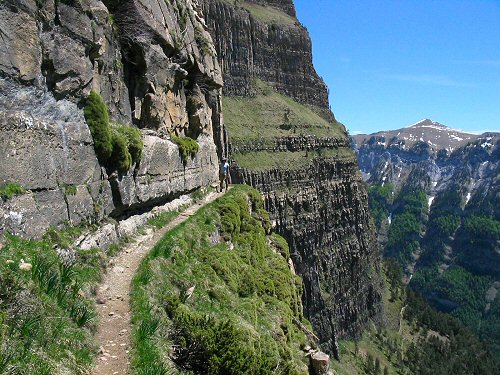 Here's a closer view of the same area.
At the top of the ridge the terrain becomes more alpine in nature. Marmots and mountain goats (called Chamois) dot the landscape.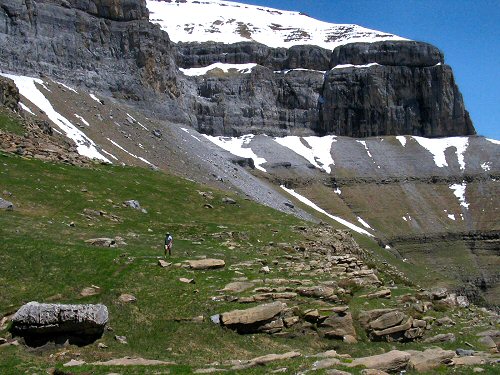 Well, we didn't quite make it to the tip of Tozal del Mallo. Instead we decide to turn around about 1/2 hour from the summit in order to keep the hiking time down to a mere 11 hours. It's the journey that counts though and I chock this hike up as a successful one all the same.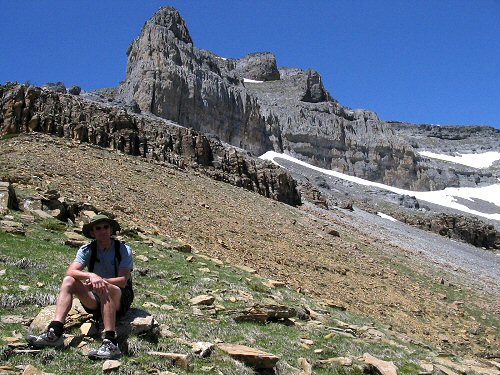 Page 1 Page 2 Page 3 Page 4 Home Trip Reports