Page 1 Page 2 Page 3 Home Trip Reports
We stay the night at a campsite in the village of Lenk (which means 'lynx' in German). Day 2 dawns bright and sunny as we depart the town for the first climb of the day.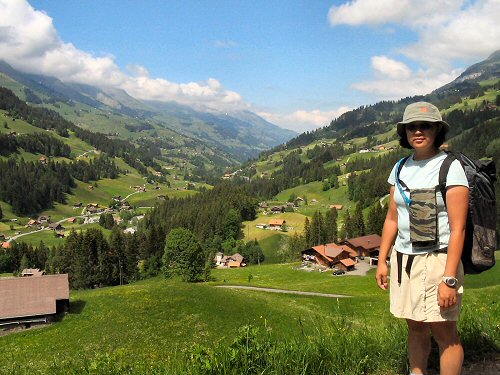 Walking along the Alpine Pass Route consists of this simple formula: depart the village where you slept the night before, climb 3000 feet to a mountain pass, descend the other side into the next valley and village below. Repeat.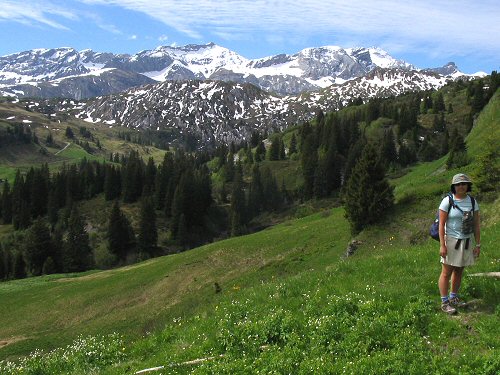 These next few photos were taken at the 2038 meter Truttlisbergpass which has some great views of the surrounding mountains, and with clear skies, we can actually see them.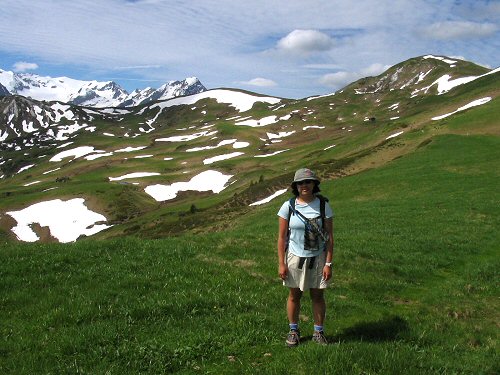 In case you are thinking of traveling there, be aware that Switzerland is an extremely expensive place to live. It is not unusual to spend 50-100% more than in the US for everything you might buy in the country.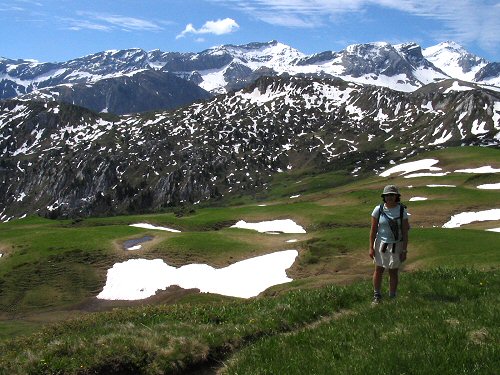 More nice scenery. Since we were hiking quite early in the season we had the paths to ourselves.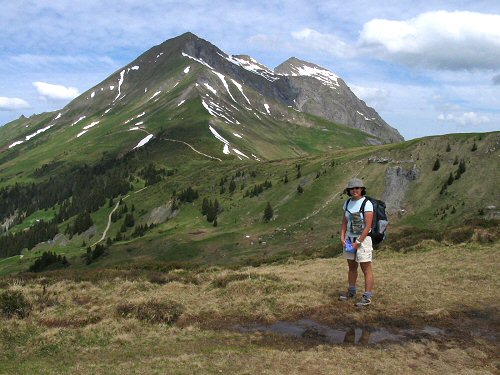 The hiiillllls are aliiiive, with the sound of muuuuusiiiiiiic.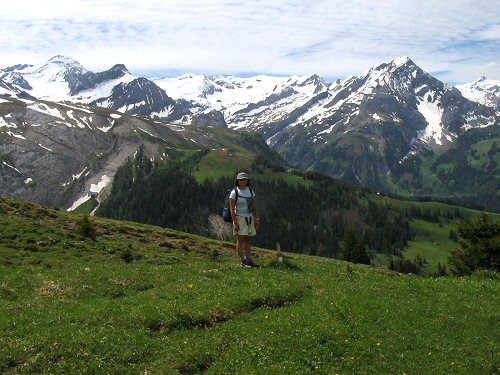 Not really, that movie was filmed in Austria. These hills are alive with the sound of (not to mention the sight and smell of) ..................
The Swiss are very proud of their cows, which are all over the countryside. They all wear bells of various sizes which make quite a racket as they go about their daily activities: eating, walking, defecating or various combinations thereof.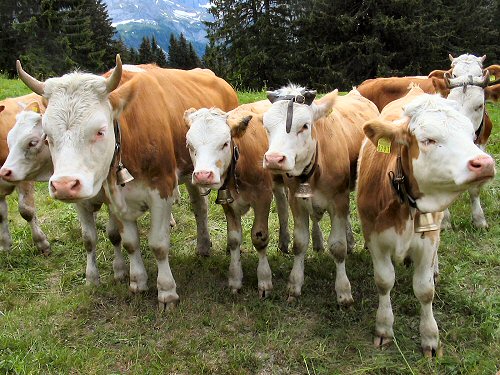 On a more serious note, every year Swiss cows are responsible for injuries to hikers and farmhands, and become particularly aggressive when they are with small calves. Some reports I saw on the web recommend that hikers walk quietly and avoid sudden movements when in cow country. Not knowing this at the time, I adopted a more obtrusive approach and used intimidation and loud noises (clapping seemed to work particularly well) to scare the beasts from my path. This bunch seemed more curious than threatening.
Page 1 Page 2 Page 3 Home Trip Reports