Page 1 Page 2 Page 3 Home Trip Reports
We end our second day in the village of Gsteig and find a small campground with showers for the evening. It's typical for Swiss campgrounds to charge a camping fee for each person, plus an additional charge for your shelter - tents are cheapest, followed by vans, campers etc. Still, a tent site is a fraction of the cost of a hotel.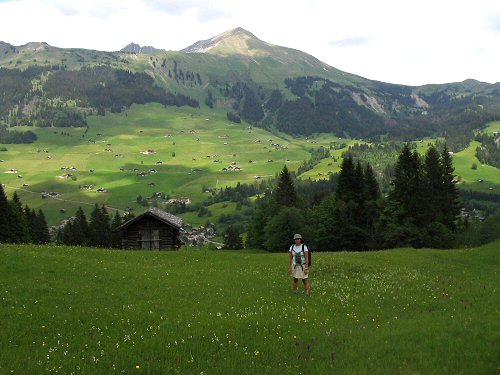 Day 3 and the clouds have moved back in, which is not surprising since the hike between Gsteig and Col de Mosses is reported to be particularly scenic. We get a few views of the hazy mountains as we climb up to another pass.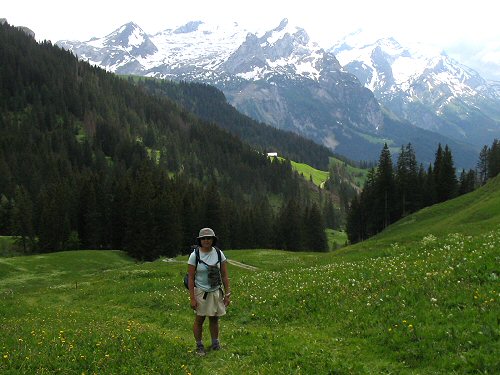 The clouds bring out the pretentious artist in me and I set myself about the task of photographing the magical monuments of nature's creation, trying to capture the interplay of light and shadow, form and emptiness, the sublime and the ridiculous, brilliance and bone-headed, mind-numbing, piss-on-the-cat-drunk stupidity.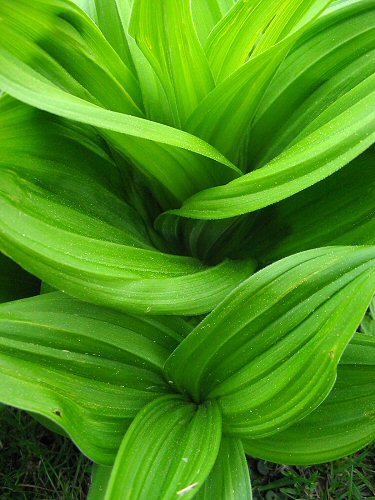 Sorry, it's easy to let those metaphors run a bit out of control.
By early afternoon a light rain has set in as we squish gamely along towards our destination at Col de Mosses.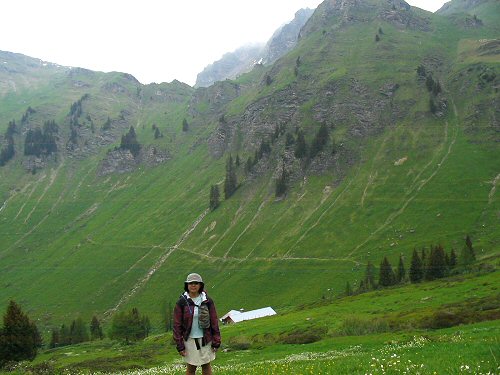 Dawn of Day 4 brings sunny, blue skies and perfect morning light for photographing bovine life forms. I'm hoping to get this picture on the cover of 'Cows I'd Like to Eat' magazine.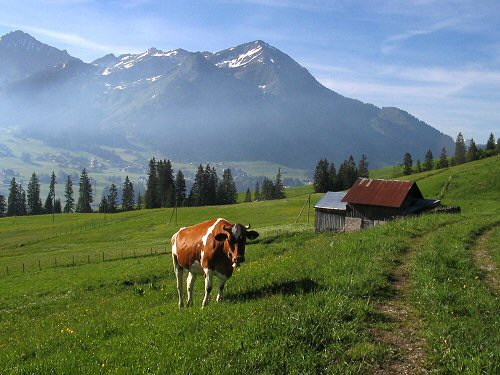 This is the Lac de L'Hongrin, a misnomer which contains a bit of deception we also seem prone to in the US. Be it Lac de L'Hongrin or Lake Powell, I'd prefer we call it for what it is - a reservoir.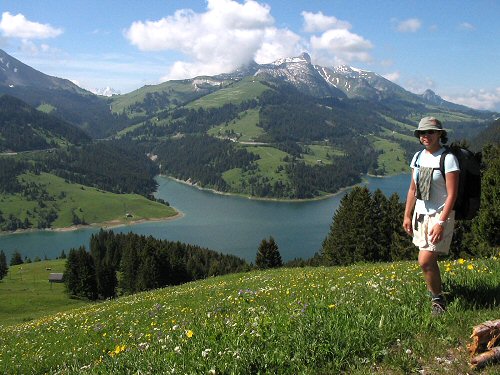 We completed our trek to Montreux, then traveled by train back to Geneva where we saw some of the sights of the city including the Jet d'Eau, which is a Geneva icon whose image may be found on all the tourist pamphlets. Water shoots to a height of 140 meters from the fountain, making it the tallest in Europe. Interestingly enough, the tallest fountain in the world reaches 171 meters and is located right here in Arizona in the town of Fountain Hills.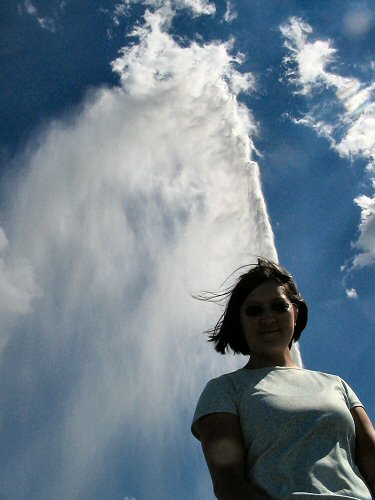 A few random thoughts about the area to wrap up this report:
The most popular art form in Geneva appears to be graffiti.
A convenient and well run public transportation system has a huge impact on the livability of a city.
Most types of authentic Swiss cheese do not have holes in them.
Having a hot shower at the end of each day of trekking doesn't make up for the lack of remote wilderness areas, but it certainly feels good.
Cows and hiking don't mix, beef and hiking is another story, a contradiction perhaps.
Page 1 Page 2 Page 3 Home Trip Reports