Page 1 Page 2 Page 3 Page 4 Page5 Page 6 Page 7 Page 8 Home Trip Reports
The crew is down to the core team of Aaron, Tom, Todd & Steph. We had big plans for the day, but instead we go out for a leisurely breakfast, have a little sit down to digest, we then pick up a permit, take a breather, then do some high quality loafing. We're a bit run down from yesterdays extravapolooza and opt for something scenic and undemanding, so we gear up for a casual photography trip through Pine Creek Canyon. We get started at the crack of noon.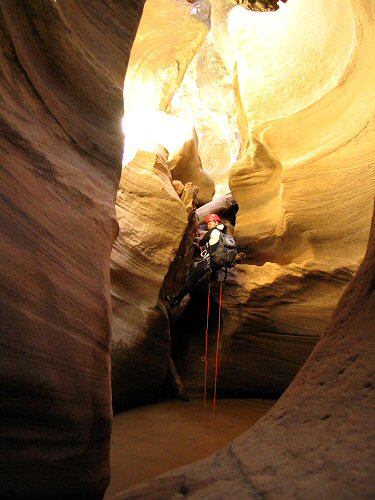 Our timing could have been better. Sunlight is shining directly into the canyon in several spots, including just to the left of this photo (where the arches are). Since we are following a long line of canyoneers ahead of us, we take our time, set up the tripods and take pictures.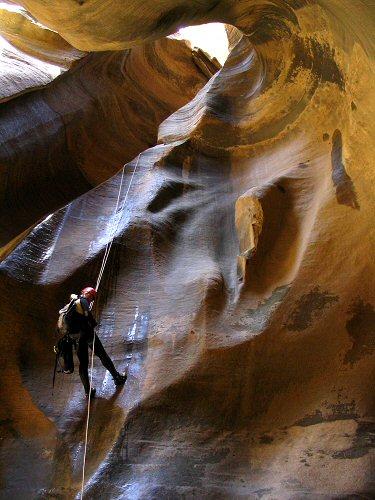 The light gets a little better as the afternoon wears on.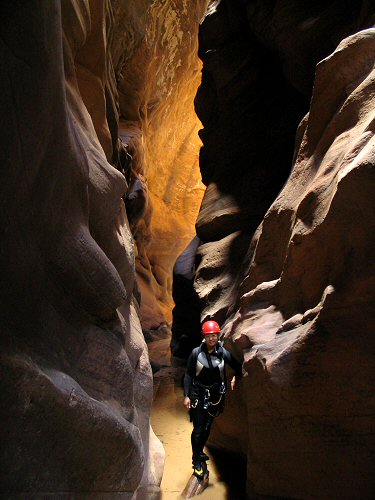 If you stare at this picture for a little while alone in a dark room, it'll start to creep you out. Imagine coming around a corner and having this ghostly, faceless canyoneer, skimming across the top of the water surface, coming right at you ...... ~shudder~.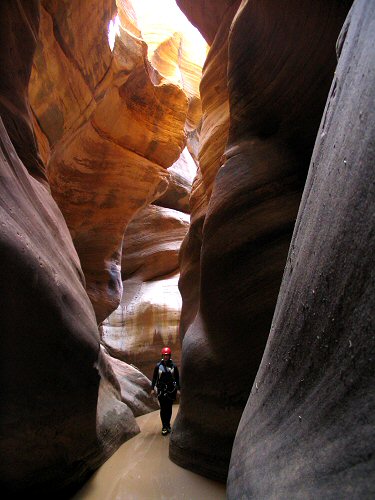 Have no fear, it's just Steph standing on a submerged rock, but it looks like she's floating.
Aaron tries the walking on water thing, but is somewhat less successful. The water doesn't look very clean, but it's not smelly, just turbid.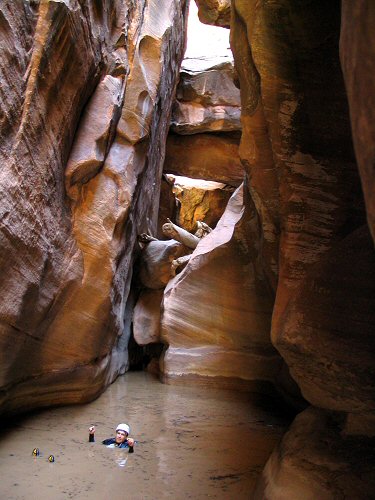 The sun is getting low as we near the end of the canyon.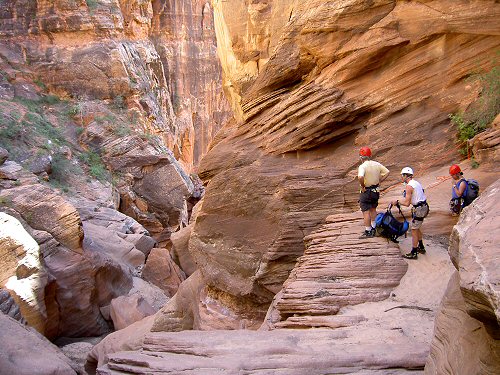 (Photo by Aaron Locander)
And of course, the obligatory photo of the last drop. Though I've seen it many times it still makes a pretty good picture.
Nothing left but some rock hopping to get back to the car. At 6.5 hours for the trip I don't think we managed to break any speed records, but it was a successful and lighthearted excursion nonetheless.
Page 1 Page 2 Page 3 Page 4 Page5 Page 6 Page 7 Page 8 Home Trip Reports