Page 1 Page 2 Page 3 Page 4 Page5 Page 6 Page 7 Page 8 Home Trip Reports
Given a choice of the curtain, the box or the next bend we choose what's around the next bend. The showcase showgirl shows us what we've won - two Imlay Gear Canyon packs, a washer dryer, and an all expense paid trip for four to that puddle in the background! We're still waiting for the washer dryer.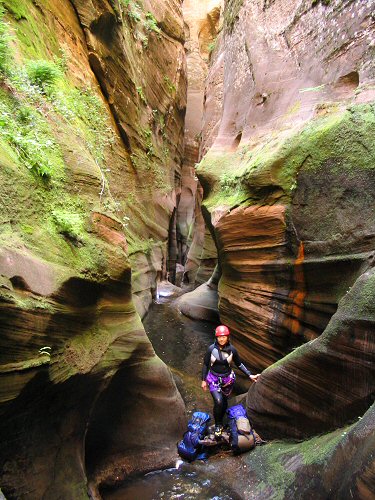 Believe it or not, other than resizing and sharpening, these photos were not digitally altered, the canyon is simply that good. I'm submitting this one for the cover of 'Better Homes and Narrows' magazine.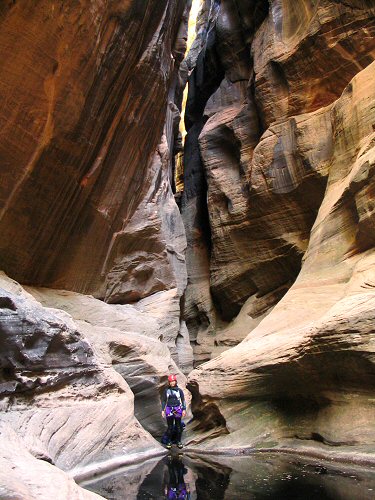 This is the view in the other direction.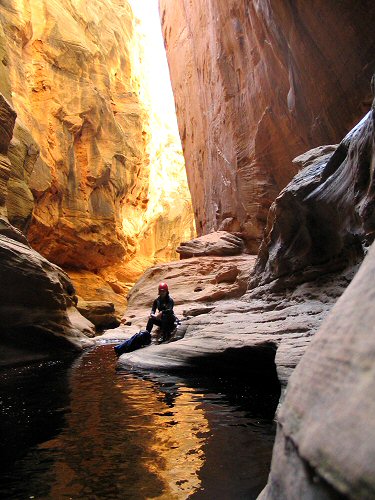 Sadly, the canyon comes to an end ...... except for the fact that we're still 450 feet above the upper Emerald Pool. The good news is that we can get out of our wet suits. We take a break and discuss our plan for descending the final drops.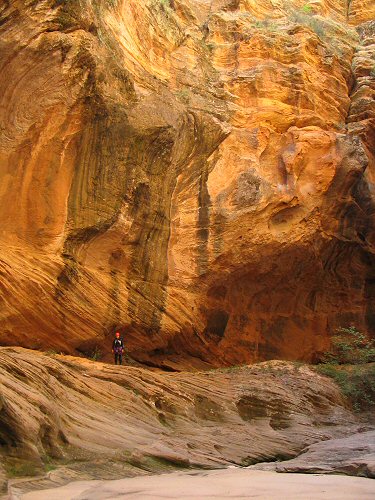 Serious Note: Be aware that there are two huge loose block shaped boulders that you will step right onto as you descend the first of the three rappels at the end of the canyon (the 50 footer). These blocks are balanced one on top of the other and probably weigh 50-70 pounds each. They rock precariously when you step on them.
A 50 foot rappel, then a 150 footer brings us to the 'birds perch'. Tom expresses misgivings about the height and the rappel, I try to talk him through it, but soon his lower lip begins quivering. I don't know what to say, get a grip, man! Roll over the image to see what happens next.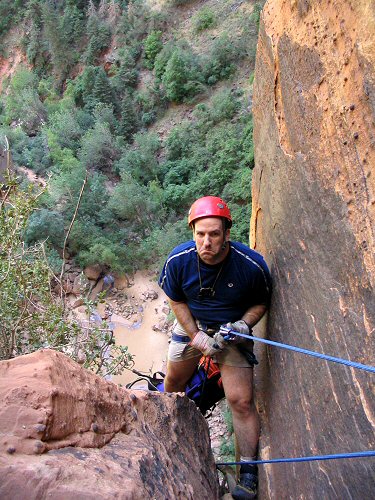 C'mon, you didn't buy that did you? Tom has ice water running through his veins.
We all get down safely and pull our ropes. For those interested in the logistics, we stashed this 400 foot 11mm blue monstrosity at the bottom of the big rap before we entered the canyon. In addition to two shorter ropes and a pull cord, we carried a 300 foot 8mm rope through the canyon in a dry bag and only used it for the 1'st person down on the last drop. We then pulled up the 11mm rope and the rest of the group rappelled single strand on that one. This technique works well, the only question is, who's going to carry that massive 400 footer back to camp?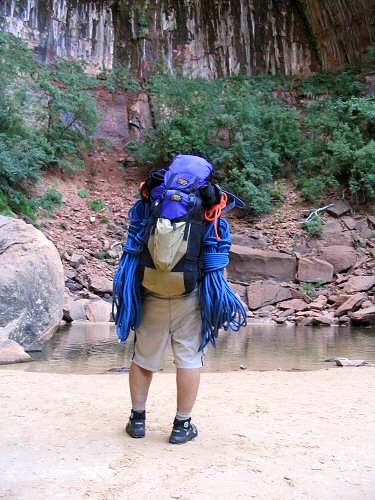 Ha, ha, this photo makes me laugh!
Here's the happy crew, safe and sound and back on solid ground.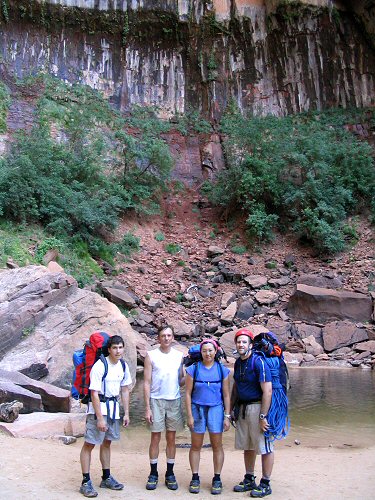 Another canyon completed, we break for the day.
Page 1 Page 2 Page 3 Page 4 Page5 Page 6 Page 7 Page 8 Home Trip Reports