Page 1 Page 2 Page 3 Page 4 Page5 Page 6 Page 7 Page 8 Home Trip Reports
Heaps, Day 1: Rested and relaxed, the group decides to celebrate the country's independence with a two day expedition through Heaps Canyon. Steph, Tom and that dude from 'What's His Name's Hiking Guide' attempt to look bright eyed and bushy tailed for the camera as we get an early start to take advantage of the cool morning temperatures (Aaron is behind the camera).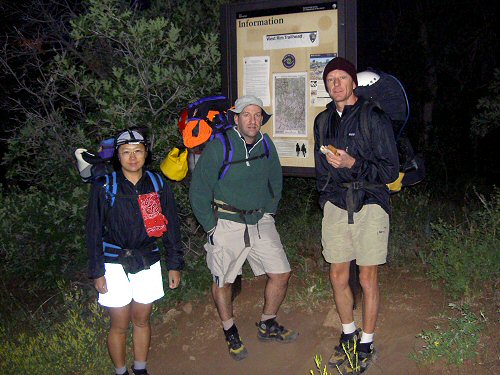 Steph is wearing reflective running shorts which obviously do a good job with the camera flash.
(Photo by Aaron Locander)
Is it just me, or does Tom's pack look a bit like that truck that the Beverly Hillbillies used to tool around in. The only thing missing is grannies rocking chair.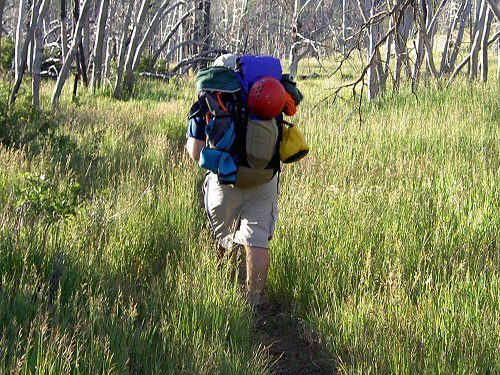 We leave the security of the trail and begin dropping into the canyon. This ridge is the scariest part of the entire trip since the rock is crumbly and loose, there are big cliffs on either side, not to mention the fact that the 'terror' alert is a shocking magenta, there are reports of increased 'chatter', there are hungry man-eating mountain lions at the base of the cliffs, and they all carry West Nile Virus.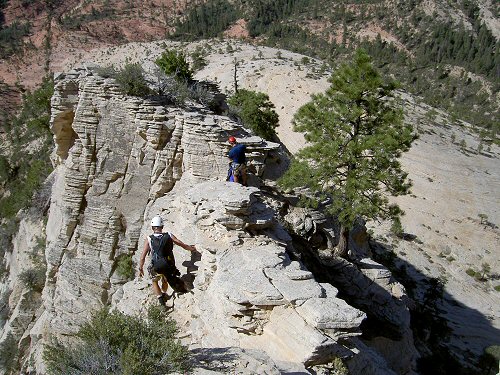 That big tree next to Tom is our rappel anchor.
We at Todd's Hiking Guide take our tree hugging literally.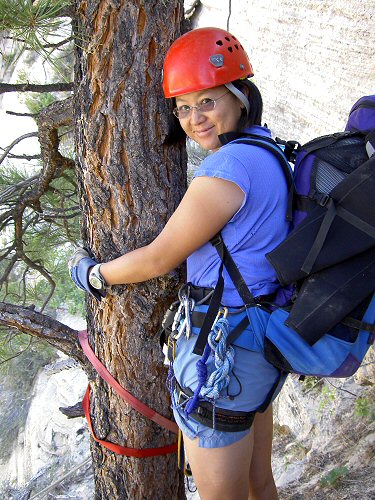 Happiness is having that ridgeline behind us (or behind us and to the right in the photo below). It's an easy stroll downhill on slick rock as we make our way towards the canyon.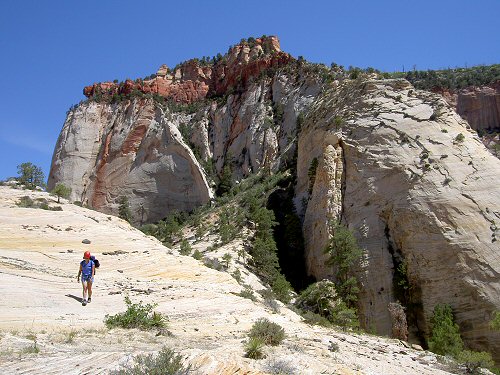 It starts to get hot out on the sunny slope, but the scenery is certainly nice. These sandstone layers were built up over millions of years through the process of sedimentation. Two hundred and forty million years ago Zion was a large flat basin. As surrounding highlands eroded, sand, gravel and mud were carried into the basin and deposited in layers. The weight of these layers compressed the sediment together to form sedimentary rock (mainly sandstone). About 5 million years ago the entire Colorado Plateau was slowly pushed upwards and Zion rose from sea level, to an elevation of up to 10,000 feet. Subsequent forces of water, wind and ice eroded the area to become what you see today.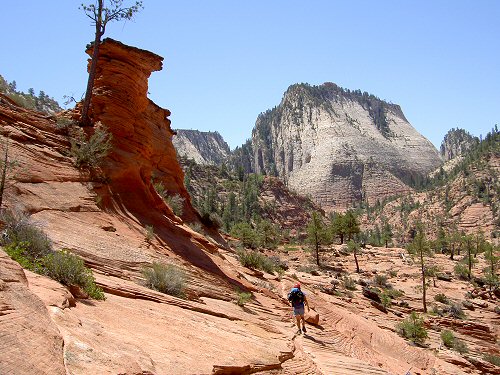 We finally arrive at our destination where we take a break, drink some water and gear up for the narrows. Let the fun begin! Here's the first rappel, a double drop from a single bolt and hanger on the left.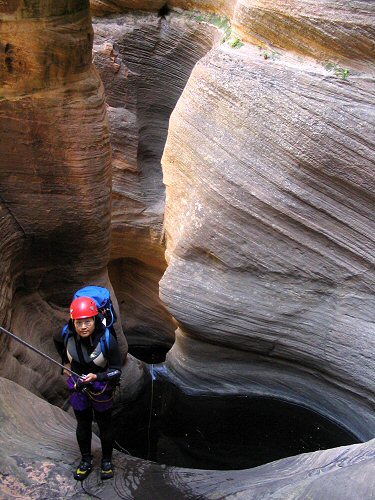 There are a lot of dead logs in Heaps which create numerous short drops. Some of these logs are not very stable, so you have to be careful as to where you step. There is a photograph of this same location (below) in Michael Kelsey's 'Technical Slot Canyon Guide to the Colorado Plateau', except in his photo the big log is sticking straight out. This provides a small example of how these canyons can change over time (even short periods of time).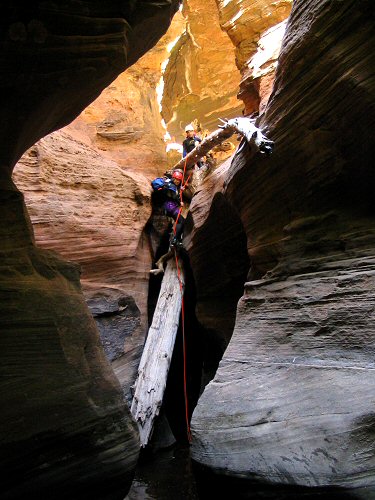 Page 1 Page 2 Page 3 Page 4 Page5 Page 6 Page 7 Page 8 Home Trip Reports