Page 1 Page 2 Page 3 Page 4 Page 5 Page 6 Page 7 Home Trip Reports
Participants: Todd & Steph
With unsettled weather in the forecast, the team disbands since completion of the regularly scheduled programming seems doubtful. Not ready to return to civilization, Todd & Steph venture into yet another Cathedral, this time Cathedral Wash (that's cathedral #3 for those who are counting).
Just a few photos so that those who bailed can see what they missed.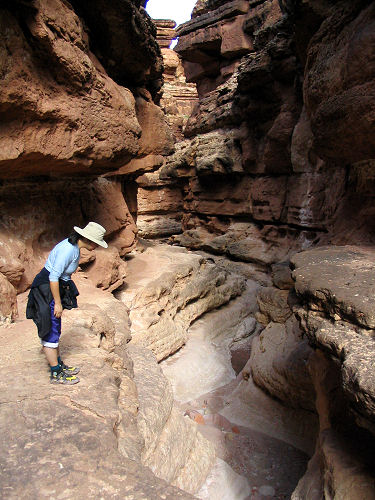 It turns out, in fact, that the forecast was dead wrong and the next day dawns bright and sunny as our intrepid explorers venture out to locate the Secret of Cobra Arch - coming soon to a drive-in near you.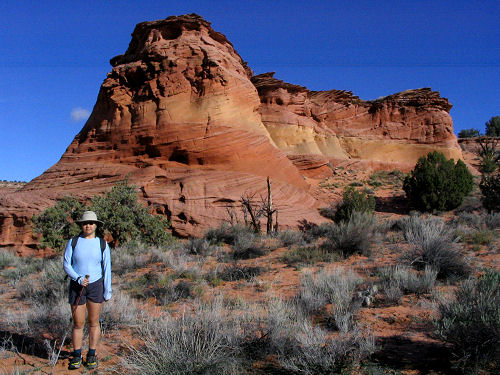 With nothing but a hand drawn map we search the hills for the famed formation, but it is nowhere to be found. Perhaps it's playing hide and go seek amongst those hoodoos?
Cobra Arch isn't the biggest one around, but it's one of the more scenic. The shape is very organic, it reminds me of a root or tendon.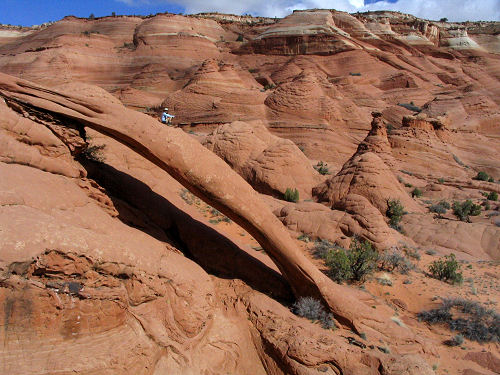 Here's a nearby hoodoo that beckoned me to climb up onto it. With this side trip complete, we hike over to check out the middle route to Buckskin Gulch with the intention of poking around in the Gulch or looking for the escape on the south side to hike over to Steamboat Rock. Unfortunately, the Buckskin is flowing strongly with cold, brown water. Best left to another day.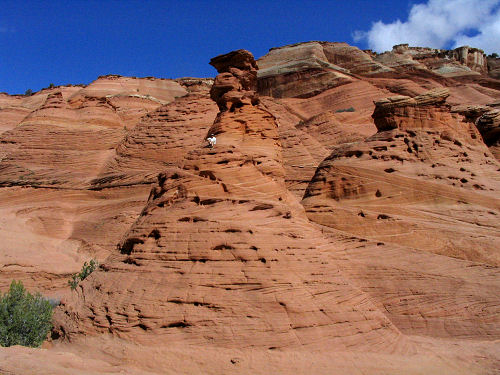 Instead we go looking for some interesting rock formations in the area we'd read about. The dark cap rock on top acts like an umbrella, keeping rain off the softer white sandstone below. As a result, rock on either side of the cap rock weathers away forming a pinnacle (or toadstool). Eventually the rock will erode to the point where the cap rock will fall off and the pinnacle will erode away to a nub.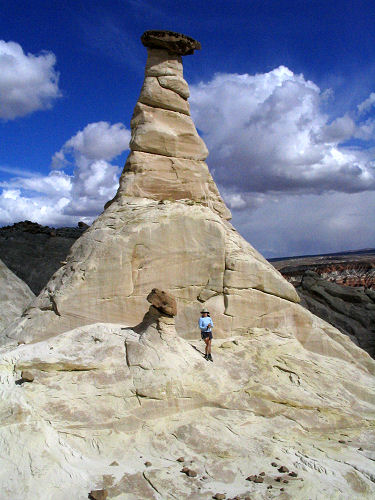 Hmm, perhaps not the best location for those with feelings of inadequacy.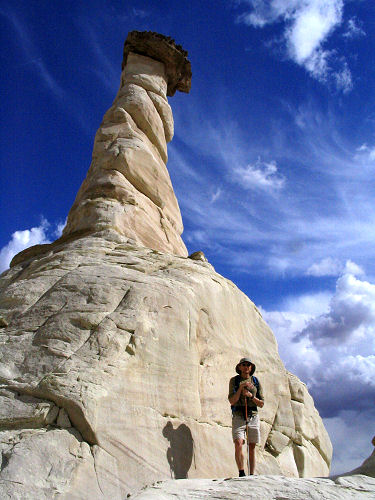 Page 1 Page 2 Page 3 Page 4 Page 5 Page 6 Page 7 Home Trip Reports